Daily Suzhou Guided Bike Tours
Departure City: Suzhou
One Day Countryside Tours (3 tours)
Escape to Suzhou's suburbs with a two -wheeled assault on the ancient water town &villages, wetland and plantation. Enjoy mountain biking with the rolling hills and bamboo forests. Explore Suzhou countryside on unique and exciting ways.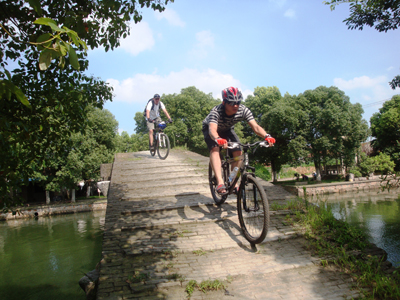 Price:
1 people
CNY 1300 /EUR 155/USD 220/person
2-3 people
CNY 950 /EUR 110/USD 160/person
4-5 people
CNY 850 /EUR 100/USD 145/person
6-more people
CNY 750 /EUR 90/USD 125/person
Price includes:
English speaking tour leader
Private round-trip transportation
Mountain Bicycle and helmet
All entrance fees
Support vehicle
Lunch (Sandwich) and Water
Tailake is surrounded by a series of small hills and protected zones that don鈥檛 attract a lot of attention from the average vacationer, but are a great spot to escape the crowds and explore the less visited parts of China鈥檚 colorful rural landscape...
Located in between the beautiful Suzhou and the monstrous Lake Tai, Qionglong Mountain is the highest mountain in Suzhou. As such, it has been filled with many historical sites, like Sun Wu Garden (the site where Sun Tzu wrote The Art of War). The mountain has been officially listed as a national forest park and serves as a cultural and adventure tourists alike....
Luzhi Jinxi (Chinese:锛岃鐩达紝閿︽邯) These water towns are rural towns on the outskirts of Suzhou. Let鈥檚 ride and come to explore the small quiet farming communities and canals of Suzhou famous ancient water towns. Along the way filling up on fresh air, experiencing the Suzhou countryside, hitting the great spots, and enjoying the exhilaration of biking