One Day City Tours

This one day bike tour is aims to show you classic Suzhou at a leisurely pace. We will casually pedal through a number of "can't miss" sites and other sights you may miss on your own.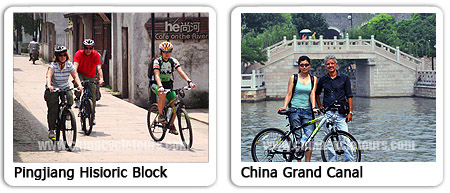 One Day Countryside Tours (3 tours)

Escape to Suzhou's suburbs with a two -wheeled assault on the ancient water town &villages, wetland and plantation. Enjoy mountain biking with the rolling hills and bamboo forests. Explore Suzhou countryside on unique and exciting ways.